Install your HP printer in Windows PC using HP Easy Start, Hp Easy smart is an automated download and installation application for HP Printers.
Before installing your HP printer Full Feature Software and Driver, make sure your printer is on.
If you connected a USB cable from your HP printer to your computer, disconnect it until prompted in the HP printer installation.
On your computer open Google Chrome and go to 123.hp.com/setup.
Select the Download to save the HP Easy Start on your computer.
Open the save file "HPEasyStart.exe" to extract HP Easy Start installer.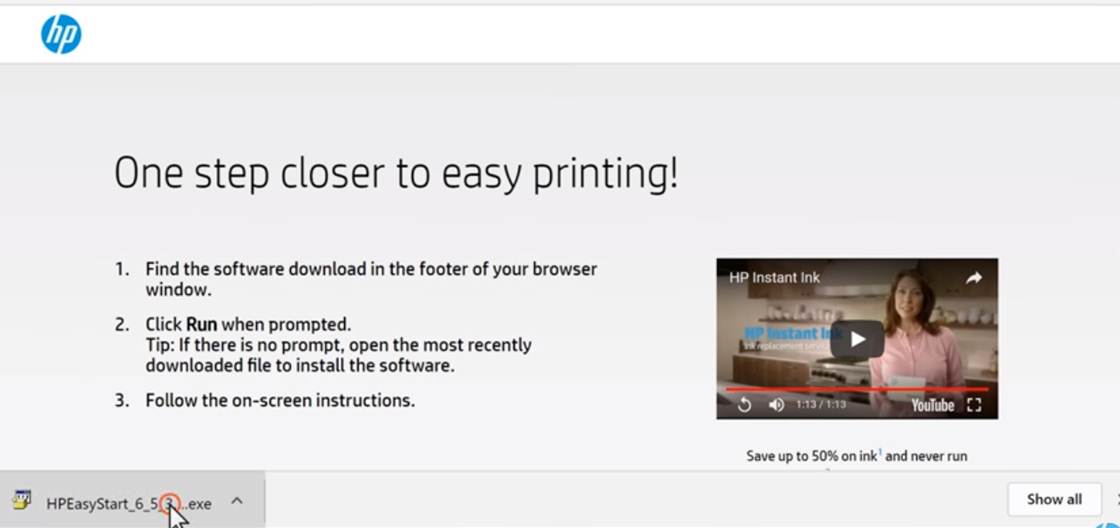 If a windows prompt displays, Select Continue, Run, or Yes to allow the HP Printer software to make changes to your computer.
Review the agreements and statement, Select the box to accept term, and then click continue to download your HP Printer Driver and Software.
Connect the flat end of HP printer cable into your computer and the square end into the printer.
HP printer software installer detects the printers connected to the network or computer and then displays your HP printer.
If the displayed printer is not the HP printer you want to install, select My Printer is Not Shown to identify your printer.
Some printer models are not supported by HP Easy Start, if your printer is not detected or cannot be identified, go to support.hp.com to
download the HP Printer Drivers and Software.
Click Continue to allow the HP Easy Start installer to search updated HP Printer Drivers and Software for your HP printer.
All available HP Printer Software and Driver for your printer displays including which software HP recommends.
Select the HP Printer Driver and Software that best fits your needs, and then click Continue to Download HP printer driver.
With download complete, the HP Printer Driver extracts and open automatically.
Read and response to remaining screen to set personal preferences and information to complete HP Printer Setup.
HP Printer Assistance launches automatically.
This application installs with your HP Printer and allow you to scan documents and photos, order supplies, check ink levels, and more.
Your HP Printer Setup is completed and you HP Printer is now ready to use.